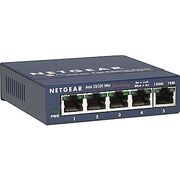 About
In data communications, a hub is a place of convergence where data arrives from one or more directions and is forwarded out in one or more other directions. Basically, a hub shares its connection with all the devices connected to it. A hub is similiaar to a television cable splitter thats connects two or more televisions outputs together using one input. A hub usually includes a switch of some kind. (And a product that is called a "switch" could usually be considered a hub as well.) The distinction seems to be that the hub is the place where data comes together and the switch is what determines how and where data is forwarded from the place where data comes together. Regarded in its switching aspects, a hub can also include a router.
1) In describing network topologies, a hub topology consists of a backbone (main circuit) to which a number of outgoing lines can be attached ("dropped"), each providing one or more connection port for device to attach to. For Internet users not connected to a local area network, this is the general topology used by your access provider. Other common network topologies are the bus network and the ring network. (Either of these could possibly feed into a hub network, using a bridge.)
2) As a network product, a hub may include a group of modem cards for dial-in users, a gateway card for connections to a local area network (for example, an Ethernet or a Token Ring), and a connection to a line (the main line in this example).
References
Links