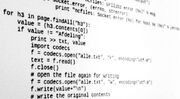 About
In computer science, source code (also known as code, machine code or machine language) is any collection of computer instructions (sometimes with comments) written using some human-readable computer language, usually as text. The source code of a program is specially designed to facilitate the work of computer programmers, who specify the actions to be performed by a computer mostly by writing source code. The source code is often transformed by a compiler program into low-level machine code understood by the computer. The machine code might then be stored for execution at a later time. Alternatively, an interpreter can be used to analyze and perform the effects of the source code program directly on the fly.
Most computer applications are distributed in a form that includes executable files, but not their source code. If the source code were included, it would be useful to a user, programmer, or system administrator, who may wish to modify the program or understand how it works.
Aside of its machine-readable forms, source code also appears in books and other media; often in the form of small code snippets, but occasionally complete code bases; a well-known case is the source code of PGP.
Purpose
Source code is primarily used as input to the process that produces an executable program (i.e., it is compiled or interpreted). It is also used as a method of communicating algorithms between people (e.g., code snippets in books).
Programmers often find it helpful to review existing source code to learn about programming techniques.[4] The sharing of source code between developers is frequently cited as a contributing factor to the maturation of their programming skills.[1] Some people consider source code an expressive artistic medium.[2]
Porting software to other computer platforms is usually prohibitively difficult without source code. Without the source code for a particular piece of software, portability is generally computationally expensive.[citation needed] Possible porting options include binary translation and emulation of the original platform.
Decompilation of an executable program can be used to generate source code, either in assembly code or in a high level language.
Programmers frequently adapt source code from one piece of software to use in other projects, a concept known as software reusability.
Types
The source code has many different types and applications here are a well-known few to include but not limited to:
ActionScript
C#
Cobal
Haskell
HTML
PHP
JavaScript
Pascal
Perl
Python
Ruby
Smalltalk
SQL
Visual Basic
Reference
↑ Spinellis, D: Code Reading: The Open Source Perspective. Addison-Wesley Professional, 2003. ISBN 0-201-79940-5
↑

Art and Computer Programming" ONLamp.com, (2005)
Links
Video